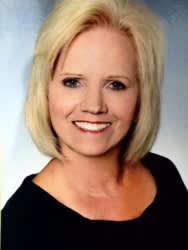 Patti Howard is a life-long Southern Indiana resident. Her original career as a Health & Physical Education teacher has made her a familiar face in the area. With her knowledge of the area and the people in it, she is a very dedicated real estate agent.
She received her Bachelor's Degree in Education from Asbury College and her Master's Degree from Indiana University Southeast/Purdue University in New Albany. She taught and coached in Greater Clark County for 35 years and was an Adjunct Lecturer at Indiana University for 19 years. She has also served on the Professional Standards Board for PE Standards.
Patti began her Real Estate career at the Harbours Condominiums in Jeffersonville, where she worked for 3 years. She has been a Real Estate Agent for Schuler Bauer since 2006. She has consistently been in the top 10% of Schuler Bauer's sales. Patti creatively uses her teaching skills to help house hunters understand their Real Estate transactions. She specializes in working with Sellers and Buyers, she enjoys educating clients about the home buying and selling process. Patti serves her clients with professionalism, patience, and a senses of humor.
Patti is married to Jim, they have two children and a granddaughter. She is also a very active member of Eastside Christian Church, Greater Clark County Education Committee, and Fellowship of Christian Athletes.